UMBC is a mid-sized, public research university offering bachelor's, master's, and doctoral degrees.  UMBC combines the emphasis on teaching found at the best liberal arts colleges with the innovation of a research university, offering nationally recognized programs in the arts, sciences, engineering, technology, policy and the humanities.
The UMBC Chess Team competes in major intercollegiate chess tournaments such as the Pan-American Intercollegiate Team Chess Championship (held each January) and the President's Cup (traditionally held in early April), in addition to several preparatory tournaments in between.
Legacy:
PAN-AMERICAN INTERCOLLEGIATE TEAM CHESS CHAMPIONS

1996, 1998, 1999, 2000, 2001, 2002, 2005, 2008, 2009, 2012
A record 10 times!

NATIONAL COLLEGIATE TEAM CHESS CHAMPIONS

2003, 2004, 2005, 2006, 2009, 2010
Qualified for The President's Cup: The Final Four of College Chess a record 15 times!
UMBC hosts two open tournaments each year, the UMBC Championship in September, and the Alvin S. Mintzes, UMBC Open in March. Team and Club members engage in chess-related community service, often by hosting lectures, camps, or partnering with local schools to promote after-school initiatives.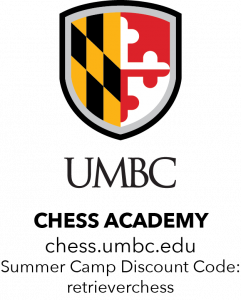 The UMBC Chess Program has partnered with UMBC's Institute for Extended Learning to offer two brand new educational offerings for the improving chess player:
1.) Coaching Sessions — customized, one-on-one coaching sessions with one of our talented and experienced grandmasters or international masters.  Sign up for as many one-hour sessions as you'd like!
2.) Summer Camp — week long, half-day sessions designed to form a solid foundation upon which to grow and develop one's knowledge and love for the game.